Spam Illustrated :: Valentin & His Blind Mother
Spa

m Ill

ustrated :: Valentin & His Blind Mother
An Illustrated Compendium to Spam Emails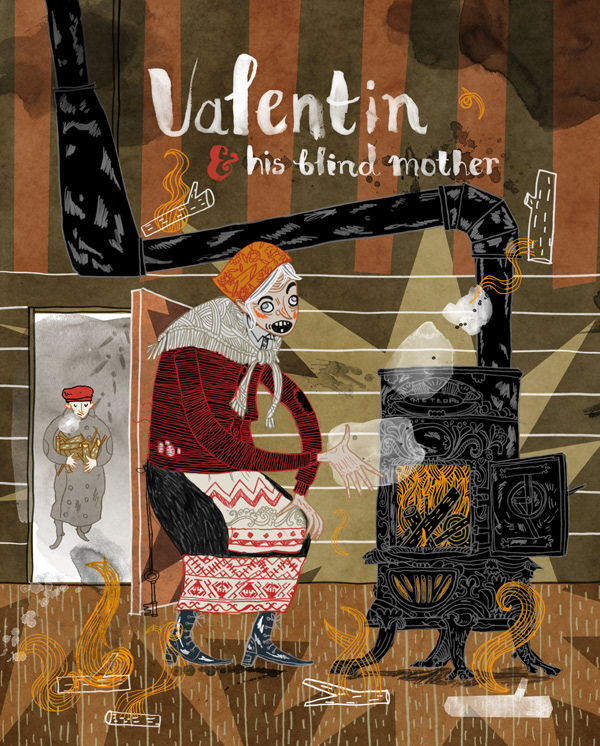 Subject: Letter to Ireland
Hello,
My name is Valentin, I am a student and I write you from little Russian city. I found several addresses on Internet and I decided to send you this letter. Our local library give free Internet access for students.
     I live with my mother, she cannot see since many years and I take care of her. My father left our family when I was a child. I work very hard every day, but because of deep financial crisis my salary is very little and not even enough for the things of primary necessity. Because of extremally hot weather during this summer most of the potatoes and vegetables get withered in our garden. A lot of forests burned. We were forced to spend all our small savings to buy something to eat for the coming winter to avoid starvation.
     Electricity and gas is very expensive in our region and we can not afford to heat our home anymore. The only way to heat our home in winter is to use portable oven which heat with burning wood. We have wood savings in our shed and this oven would heat our home all the winter, at no cost to us. Unfortunately, we can not buy such oven as our local market, because the value of it 8,300 rubles, and is a great amount for us (the equivalent of 197 Euro).
     I decided to appeal to you and I hope you can help us. If you own any old portable oven and if not using anymore, I'll be very grateful if you can donate it for us and organize transport of this oven to us (we live 200 km from Moscow). These ovens are different, usually made of cast iron and weigh about 100kg.
Please let me know if you can help and I will write you our home address. If you cannot help with the stove, may be you can send two old sleeping bags- we will be sleeping inside of them during the nights and we will not freeze. If you need, I can send medical documents about the disease of my mother.
I send you best wishes from Russia,
Valentin and my mother.
POSTSCRIPT: Please apologize for the mistakes in this letter, I translated this letter with the help of computer-translator and dictionary.
Thank you.