Spam Illustrated :: Alena – Lonely in Russia
Spa

m

Illustrated :: Alena – Lonely in Russia
An Illustrated Compendium to Spam Emails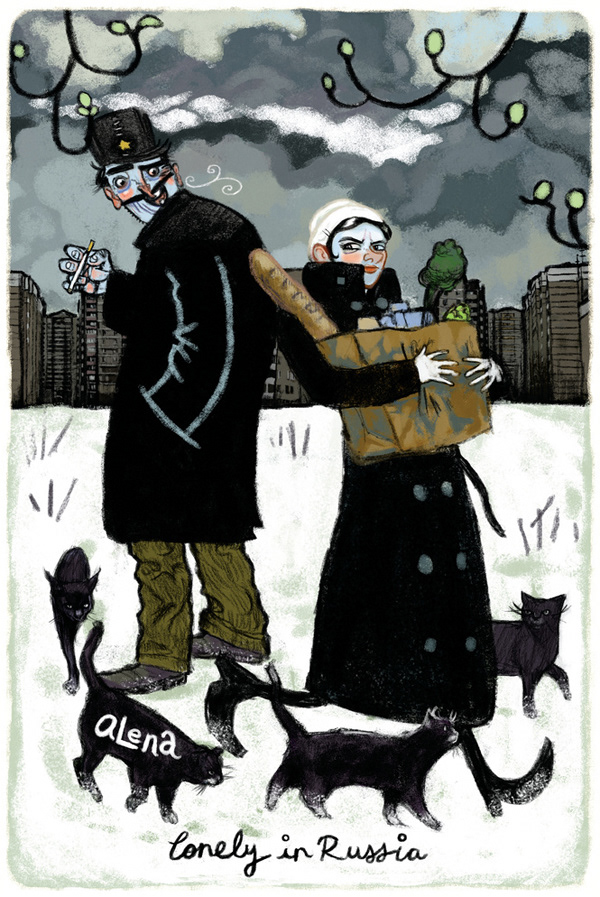 Subject: Sweet greetings from Alena
My name is Alena.
I am from Russia. I am 30 years. I wish to explain where I have taken your e-mail address. My girlfriend has got acquainted with the man by means of one site. That the man has told, that there is a man which wants too will get acquainted with the Russian woman and has given my girlfriend your e-mail address. But that the man which has given your e-mail address asked that I never spoke his name and where hi lives. Therefore I shall not tell to you a name of that of the man. I at all do not know there was it the truth or not, there can be you do not know that the man. But now we write each other and this main thing. I always wanted will get acquainted with foreign the man because I was disappointment Russian men. Hope we can construct serious attitudes. I search for love.
     I work nurse in city hospital. I love sports, at leisure I play in volleyball. I like to walk with girlfriends. I love animals. I had a cat, but in one day it has left on street and has not returned. In life I very sociable, cheerful. I have a lot of friends and familiar with which I like to communicate and spend with them time. I like a lot of time to spend on lake in the summer, to bathe, sunbathe and simply to have a rest. The favourite season is spring. At this time it becomes warm, it is possible to take off superfluous clothes. It is pleasant to look, how leaflets are dismissed. In general I romantic. I like to dream about fine. It is pleasant to walk in the warm evening on quay, to look at small river, than people are occupied, to inhale fresh air. When in the street bad weather, I can look something interesting film. Favorite agenre - comedy as horror films like. But I prefer to listen to music. My motto " with music on a life ". In week-end I with girlfriends go to a disco where we speak about problems. I wanted to get acquainted here, but on disco only young men, and I want to get acquainted with more skilled man in internet.
     I hope my letter does not remain without attention and you can answer me.
If I have interested you, write me on mine e-mail: sweetal48@gmail.com
Best wishes
Alena